Best Bow Hunting Backpacks of 2023: Load Up and Lock Your Target
Gear up for success with our top-rated bowhunting backpacks. Securely carry your essentials and lock onto your target with the ultimate hunting companion.
Revolutionizing your bowhunting escapades is the unparalleled Best Bowhunting Backpack. Behold the epitome of design and functionality, meticulously engineered to outperform and redefine outdoor gear standards. Crafted for the bold and adventurous, this backpack doesn't just carry; it empowers. 
It's a symphony of innovation from its sleek, tactical exterior to its intelligently organized interior. Seamless transitions, relentless durability, and strategic storage – all converge in this masterpiece. 
So, gear up and ascend into a new era of bowhunting, where the Best Bowhunting Backpack isn't just a companion and catalyst for your conquests.
Embarking on a bowhunting adventure is not just a pursuit of game; it's a journey into the heart of the wild, where skill, strategy, and gear converge to create an unforgettable experience. Central to this experience is the bowhunting pack – your trusted companion that holds the key to success in the rugged outdoors.
To help you navigate the vast array of options and find the perfect bag for your needs, here's a comprehensive guide that delves into the essential considerations.
Size and Capacity: Selecting the right size and capacity for your bowhunting pack is crucial. Striking a balance between carrying capacity and mobility ensures you have ample space for essential gear without hindering your ability to move freely and stealthily through the terrain.
Material and Durability: The harsh conditions of the wild demand a pack that can withstand the elements. Look for bags crafted from durable, water-resistant materials that can handle rain, mud, and rough terrain. Robust construction ensures your gear remains protected, even in challenging environments.
Comfort and Fit: A comfortable pack can significantly enhance your overall experience. Prioritize packs with padded shoulder straps, adjustable sternum straps, and a padded waist belt. A well-fitting bag reduces fatigue during long treks, keeping you focused on the hunt.
Storage and Organization: Efficient organization is a hallmark of a quality bowhunting pack. Seek packs with purpose-built pockets and compartments for your bow, arrows, rangefinder, and other essentials. Quick-access bags ensure you can swiftly retrieve gear without disrupting your hunting rhythm.
Accessibility: In the world of bowhunting, quick and quiet access to your gear can differentiate between success and missed opportunities. Look for packs with noiseless zippers, magnetic closures, or silent clips, allowing you to discreetly retrieve equipment.
Camouflage and Concealment: Remaining unseen by your prey is fundamental to successful bowhunting. Choose a pack with effective camouflage patterns that blend seamlessly with your surroundings. This visual concealment increases your chances of getting within range of your target.
Hydration Compatibility: Staying hydrated is crucial during extended hunts. Opt for a pack with a dedicated compartment for a hydration bladder and a hose routing system. This ensures you can maintain your fluid intake without disrupting your focus.
Weight Distribution: Long hunts can take a toll on your body. Look for packs designed with weight distribution in mind, distributing the load evenly across your shoulders, back, and hips. This minimizes strain and allows you to trek for more extended periods without discomfort.
Adjustability: Packs that offer customizable adjustments are ideal for a perfect fit. Whether you're carrying extra layers or additional gear, the ability to adapt your pack's configuration ensures you're always comfortable and well-prepared.
Extras and Accessories: Consider packs with integrated attachment points for accessories like tripods, trekking poles, and hunting tools. Molle webbing or lash points expand your carrying capacity and customize your loadout.
Brand Reputation: Choose packs from reputable brands committed to quality outdoor gear. Research customer reviews and seek advice from experienced hunters to gauge the real-world performance of the backpack in the field.
In conclusion, the bowhunting pack is more than a vessel for your gear; it's an extension of your strategy and an enabler of your pursuit. By meticulously considering these factors, you can confidently choose a bowhunting pack that aligns with your needs, enhances your hunting capabilities, and sets the stage for successful adventures in the great outdoors.
Exploring the Apex: 2023's Supreme Selection of Backpacks for Big Game Hunting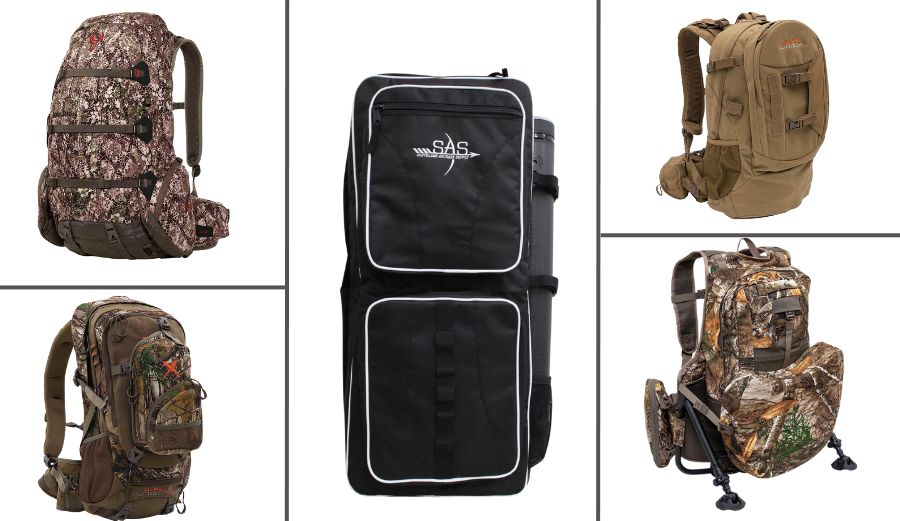 Welcome to the cutting edge of big game hunting gear in 2023. 
As you step into the realm of the wilderness, it's crucial to have the right tools at your disposal; none are more essential than a reliable backpack. In this guide, we journey through the terrain of the best bags for big game hunting this year. 
Unveiling innovation, durability, and versatility, these packs aren't just accessories; they're strategic assets designed to enhance your prowess as you pursue the mightiest quarry. Join us as we explore the pinnacle of backpack technology tailored to the ultimate success of the modern big game hunter.
In hunting gear, the ALPS OutdoorZ Pursuit Backpack emerges as a champion. Combining spacious capacity, intelligent design, and affordability, this backpack is a force to be reckoned with for the modern hunter. Let's delve into the key features, reasons behind its selection, and insights that make this pack an exceptional choice.
Key Features
Capacity:

 With a generous storage capacity of 2,700 cubic inches, the Pursuit Backpack offers ample room to accommodate your gear without sacrificing mobility or comfort.

Weight:

 Weighing in at just 4 pounds and 1 ounce, this pack strikes a remarkable balance between robust functionality and lightweight design.

Main Pocket Storage:

 The deep main compartment of the backpack is designed to hold even the bulkiest of hunting essentials, making it a reliable choice for those extended trips into the woods.

Sturdy Handle:

 Equipped with a sturdy handle, the backpack ensures easy transport and convenient handling, especially when loading and unloading gear.

Comfortable Shoulder Straps and Waist Belt:

 The Pursuit Backpack doesn't compromise comfort. Its well-padded shoulder straps and adjustable waist belt provide comfort even during the hauls of heavy loads.

Organizational Shelf Pocket:

 A standout feature is the organizational shelf pocket integrated into the large front pocket. This innovative design keeps your gear systematically arranged and within arm's reach.

Blaze Orange Rain Cover:

 Weather can be unpredictable, but this backpack comes prepared with a blaze orange rain cover, ensuring your gear stays dry while enhancing visibility for safety.
Why It Made the Cut
The ALPS OutdoorZ Pursuit Backpack stands out for its versatility, innovative design, and affordability. It offers a capacious interior while maintaining a lightweight profile, eliminating the need for multiple packs throughout the hunting season. Furthermore, its price point exceeds $100, making it an accessible option without compromising quality or functionality.
Ample Storage:

 The main pocket area is spacious enough to accommodate various gear, allowing you to tailor your loadout to different hunting scenarios.

Optimal Organization:

 The abundance of pockets enables an efficient organization, ensuring every gear has its designated spot.

Comfort Under Load:

 The backpack remains comfortable even when carrying heavy loads, thanks to the well-designed shoulder straps and waist belt.

Integrated Waist Belt Pockets:

 Waist belt pockets add an extra layer of convenience, allowing for quick access to small essentials.

Affordable Price:

 Despite its impressive features, the Pursuit Backpack offers exceptional value for its cost.
Aluminum Spine Concern:

 While some users might have reservations about the aluminum spine, it's worth noting that the removable bar can address this concern, offering flexibility and adaptability.
Product Description
The ALPS OutdoorZ Pursuit Backpack hits the trifecta for hunters seeking a reliable, adaptable, and reasonably priced solution. Its remarkable storage capacity of 2,700 cubic inches accommodates your immediate essentials and additional layers for changing weather conditions. Its organizational prowess shines through the innovative organizational shelf pocket, granting you swift access to critical gear while perched in the stand.
Seasoned hunters who value consistency will appreciate the Pursuit's all-season suitability. While some might hesitate to carry a backpack in the early season, the pack's lightweight build eliminates this concern. Its design caters to diverse needs, from tree hooks to calls, knives, flashlights, and more. The pack's adaptability shines when you need both hands free for dragging a harvested buck – the integrated drop-down pouch securely cradles your bow while you navigate.
Further enhancing its appeal are the mesh-bottom pockets on each side, ideal for items like a tree stand, umbrella, or camera arm. This backpack encapsulates the philosophy of convenience, organization, and accessibility – essential traits for the modern big game hunter.
In conclusion, the ALPS OutdoorZ Pursuit Backpack is the best overall choice for big game hunting in 2023. Its fusion of innovation, functionality, and affordability places it at the forefront of hunting gear, catering to seasoned veterans and field newcomers. With the Pursuit Backpack on your shoulders, you're poised to conquer the wilderness, equipped with a companion that embodies excellence and convenience in every hunt.
In hunting gear evolution, the ALPS OutdoorZ Matrix Hunting Pack rises to the forefront with an innovative design that transforms your hunting experience. This review peels back the layers of its features, functionality, and unique advantages, revealing why this pack deserves a coveted spot in your hunting arsenal.
Key Features
Dimensions:

This pack is 20 x 12 x 7.5 inches and offers a balanced size for accommodating various hunting essentials.

Material:

Crafted from durable polyester, the pack ensures resilience to endure the rigors of outdoor exploration.

Weight:

With a weight of 4.5 pounds, the Matrix Pack balances sturdiness with portability.

Weapon Compatibility:

The pack's unique design caters to crossbows, guns, and compound bows, offering versatility that adapts to your preferred hunting weapon.

Front Zippered "Wing Pockets":

These pockets provide secure storage for your weapon or gear during transport, ensuring protection and convenience.

Organizational Pocket:

Inside the main compartment, an organizational pocket keeps your gear systematically arranged for easy access.

Extension Lashing Straps:

The pack includes extension lashing straps for more significant or bulkier loads, accommodating varied hunting needs.

Waist Belt Range:

The padded waist belt, equipped with two pockets, fits waist sizes ranging from 31″ to 58″, accommodating clip-style holsters.

Quiver Holder:

Located on each side of the pack, the quiver holder adds extra convenience for bowhunters.

Blaze Orange Rain Cover:

An included blaze orange rain cover ensures your gear stays dry while increasing visibility for safety.
Why It Stands Out
The ALPS OutdoorZ Matrix Hunting Pack is an exceptional choice due to its innovative approach to weapon transport and comprehensive organizational features. Its unique ability to carry a crossbow, gun, or compound bow sets it apart, making it a versatile choice for hunters with diverse preferences. Including front zippered "wing pockets" demonstrates thoughtful design, offering secure storage for your valuable equipment.
Weapon Compatibility:

 Whether you're a crossbow enthusiast, rifle hunter, or bow expert, this pack caters to your weapon of choice.

Convenient Quiver Holder:

 The quiver holders on each side of the pack make bowhunting logistics seamless.

Adaptable Waist Belt:

 The adjustable waist belt accommodates various waist sizes and holster preferences.

Durable Material:

 Crafted from robust polyester, the pack ensures long-lasting durability against outdoor challenges.

Organizational Elegance:

 Including organizational pockets and compartments enhances gear accessibility and efficiency.
Specialized Design:

 While the unique design caters to various weapons, it might not be as suitable for hunters primarily using one specific type of weapon.
Product Description
The ALPS OutdoorZ Matrix Hunting Pack stands at the intersection of versatility and thoughtful design. ALPS OutdoorZ, a brand renowned for crafting exceptional hunting gear, designed this pack. It is a testament to its unwavering dedication to elevating the hunting journey. Its compatibility with crossbows, guns, and compound bows revolutionizes how you carry your weapon into the wilderness.
The distinctive "wing pockets" exemplify the Matrix Pack's adaptability. These front zippered pockets offer protection and security for your weapon or gear, minimizing the risks associated with transport. An organizational pocket promotes efficient arrangement inside the spacious main compartment, ensuring that essential equipment remains easily accessible.
One of the standout features is the included quiver holder on both sides of the pack, a boon for bowhunters who seek convenience and quick access. The padded waist belt with two pockets is designed for comfort during prolonged hunts and can accommodate clip-style holsters.
Incorporating a blaze orange rain cover speaks to the pack's comprehensive design, keeping your gear dry and adding an extra layer of safety through enhanced visibility.
In conclusion, the ALPS OutdoorZ Matrix Hunting Pack earns its place as a versatile, adaptable, and innovative choice for modern hunters. Its ability to seamlessly carry different types of weapons, combined with its organizational finesse, establishes it as a pivotal asset for those seeking a reliable and advanced hunting companion. With the Matrix Pack on your back, you can navigate the wild with unmatched convenience and functionality.
Introducing a new champion in archery gear, the SAS Archery Recurve Takedown Bow Backpack emerges as the ultimate guardian for your prized bow. Unlock the intricacies of its design, harness the technology within, and explore the remarkable features that position it as the pinnacle choice for archery enthusiasts who demand unmatched protection and convenience.
Key Features
Generous Dimensions:

Measuring 27.56 x 18.11 x 9.06 inches, this backpack offers ample space while maintaining a manageable size.

Nylon Craftsmanship:

Crafted from durable nylon, the backpack is a fortress against the elements, safeguarding your gear with resilience.

Balanced Weight:

At 5 pounds, the backpack balances protection and easy portability.

Maximized Protection:

Boasting full padding and an additional removable limb riser bag, this backpack becomes a stronghold against scratches during transit.

Organizational Excellence:

The dual large front pouches house three zipped pockets, further amplified by three internal pockets for meticulous organization.

Arrow Tube Convenience:

The removable arrow tube holder at the side ensures secure arrow transport, eliminating breakage concerns during journeys.

Air-flow Comfort:

The air-flow system integrated into the shoulder straps and backside ensures comfort even when the backpack carries its full load.

Scratch-Resistant Lining:

The interior features a soft lining, offering impeccable protection against scratches, ensuring your bow emerges unscathed.
Why It Stands Out
The SAS Archery Recurve Takedown Bow Backpack with Arrow Tube is a testament to Southland Archery Supply's dedication to elevating the archery experience. Its prowess in fusing protection, convenience, and organization sets a new standard in bow transport.
Comprehensive Bow Protection:

 Through full padding and an included limb riser bag, your bow remains safeguarded from scratches and damages.

Enhanced Organization:

 Dual front pouches with zipped and internal pockets ensure your accessories are meticulously arranged.

Comfort Under Load:

 The air-flow system keeps comfort intact, even when the backpack is fully loaded.

Secure Arrow Transport:

 The removable arrow tube holder guarantees secure arrow transit, instilling confidence in your gear's safety.

Durable Construction:

 Crafted from rugged nylon, this backpack promises enduring quality in the face of outdoor challenges.
Size Consideration:

 The backpack's generous dimensions may be excessive for those seeking a more compact solution.
Product Description
The SAS Archery Recurve Takedown Bow Backpack with Arrow Tube is a pinnacle achievement in bow transport innovation. Southland Archery Supply, a revered name in archery gear, crafts this backpack to encapsulate your bow in an unparalleled fortress of protection.
The amalgamation of full padding and a removable limb riser bag exemplifies the backpack's commitment to your bow's safety. SAS's meticulous attention to the organization is evident through the dual front pouches, outfitted with zipped and internal pockets that accommodate every archery accessory.
The removable arrow tube holder, thoughtfully positioned, ensures your arrows remain secure. At the same time, the air-flow system preserves comfort during extended journeys. With a robust nylon exterior and soft interior lining, the backpack offers a harmonious blend of durability and care.
In conclusion, the SAS Archery Recurve Takedown Bow Backpack with Arrow Tube goes beyond the ordinary, presenting a remarkable fusion of protection, convenience, and comfort. When this backpack cradles your bow, it doesn't just transport – it fortifies your archery experiences with the confidence of optimal gear care.
In the dynamic realm of hunting gear, the ALPS OutdoorZ Extreme Crossfire X Hunting Pack takes the stage as the embodiment of adaptability and ingenuity. In this review, we'll explore its innovative features, its exceptional design and unveil why it is an indispensable companion for hunters who demand unwavering performance.
Key Features
Comfortable Ventilation:

A vented back with punched molded foam facilitates maximum airflow, ensuring you remain comfortable even during rigorous pursuits.

High-Performance Materials:

Crafted from 1680D nylon ballistic fabric, this pack exudes strength and durability, upholding its integrity in challenging environments.

Lycra Shoulder Straps:

Including Lycra shoulder straps adds extra comfort, enhancing your carrying experience even during extended journeys.

Comprehensive Compression:

Fully equipped with bottom and side compression straps, the pack enables you to secure your gear effectively, regardless of the load.

Drop-Down Pocket:

A strategic drop-down pocket offers versatile storage, securely accommodating your bow or gun during transit.

Rain Cover:

Preparedness against unpredictable weather is ensured by the included rain cover, safeguarding your gear from the elements.

H2O Pocket/Port:

The integrated hydration pocket and port cater to your hydration needs, replenishing you on the go.

Side Mesh Pockets:

Additional side mesh pockets provide accessible storage for items like water bottles or essentials requiring swift access.

Weight and Capacity:

Weighing 4 lbs. 5 oz. And boasting a 38L/2325 in³ capacity, the pack offers a balanced blend of power and manageable weight.

Multi-Weapon Compatibility:

The Crossfire X is designed to accommodate bows, rifles, and clip-style holsters, catering to diverse hunting scenarios.
Why It Stands Out
The ALPS OutdoorZ Extreme Crossfire X Hunting Pack rises above conventional hunting packs due to its unparalleled versatility. It is meticulously designed to excel across various hunting styles, environments, and seasons, leaving no aspect untouched in its quest to enhance your hunting experiences.
Optimized Comfort:

 Vented back, molded foam and Lycra shoulder straps ensure enduring comfort during prolonged hunts.

Rugged Construction:

 Crafted from 1680D nylon ballistic fabric, the pack is built to withstand demanding conditions, ensuring longevity.

Customizable Compression:

 Bottom and side compression straps provide customizable load stabilization and security.

Versatile Storage:

 The drop-down, removable accessory, and side mesh pockets offer tailored storage solutions for various gear.

All-Weather Readiness:

 The included rain cover ensures your gear remains dry, regardless of sudden weather changes.
Size Consideration:

 While the pack's capacity is substantial, hunters seeking a more extensive storage solution might find it limiting for extended expeditions.
Product Description
The ALPS OutdoorZ Extreme Crossfire X Hunting Pack redefines versatility, catering to hunters with differing styles and preferences. A proud creation of ALPS OutdoorZ, renowned for pushing boundaries in hunting gear, this pack exemplifies its commitment to exceeding expectations.
Ventilation and comfort are at the forefront of this pack's design, evident through the vented back panel, Lycra shoulder straps, and punched molded foam waist belt. Regardless of your hunting pursuit, the Crossfire X remains comfortable, even when pushed to its limits.
One of its striking attributes is the removable accessory pocket, which is adaptable for three positions. Whether buckled to the rear, attached to front shoulder straps, or used independently, this pocket enhances organizational efficiency.
The Crossfire X balances comfort and strength, making it just as reliable in the turkey woods as it is in the deer stand. With a design attuned to the demands of rigorous hunting, this pack complements your skills, enabling you to focus on the hunt. At the same time, it ensures your gear's security.
In conclusion, the ALPS OutdoorZ Extreme Crossfire X Hunting Pack raises the bar in hunting gear adaptability. As the ideal partner for multi-use hunting endeavors, it offers a fusion of comfort, durability, and intuitive design. With the Crossfire X on your back, you can transcend hunting boundaries, empowered by a pack that understands and complements your hunting journey.
Introducing the pinnacle of hunting gear innovation, the Badlands 2200 Hunting Backpack with Built-in Meat Hauler is more than just a pack – it's a testament to an unwavering commitment to your comfort, functionality, and the preservation of your prized equipment. Unveil the intricacies of its design, discover its ingenious features, and understand why it stands as a symbol of uncompromising excellence in the hunting world.
Key Features
Molded Memory Foam Suspension:

Badlands' proprietary set memory foam suspension offers unmatched comfort that improves with time as the harness conforms to your body's contours.

Reverse Tightening Waist Belt:

The innovative waist belt design allows you to cinch it properly for optimal carrying comfort by pulling the belt's ends inwards.

Advanced Frame Stays:

The use of proprietary magnesium alloy frame stays, twice as strong as T6 aluminum, ensures exceptional strength while incredibly lightweight.

Detachable Rifle/Bow Boot:

Securely carry your rifle or bow hands-free using the detachable Rifle/Bow Boot and batwing straps on the pack's back.

Bino Connect System Compatibility:

2200 is compatible with Badlands' Bino Connect System, allowing you to attach your binocular case directly to the pack harness for enhanced carry comfort.

Built-in Meat Shelf:

Equipped with a built-in meat shelf, this pack caters to hunters who require a practical solution for carrying their harvest.

Hip Belt Pistol Holster:

A specially designed hip belt pistol holster offers quick and convenient access to your sidearm.

Hydration Reservoir Compatibility:

The pack is tailored to fit Badlands' 2L hydration reservoir, ensuring you stay hydrated during hunting excursions.

KXO-50 Fabric with C6 DWR:

Badlands' latest fabric, KXO-50, is exceptionally tough, quiet, waterproof, and even lighter than its predecessor.

Aramid Bartacking:

Reinforcing every stress point with Aramid thread ensures unparalleled durability, capable of withstanding the most demanding situations.
Why It Stands Out
The Badlands 2200 Hunting Backpack redefines hunting gear with a focus on comfort, durability, and functionality. It's a reflection of Badlands' commitment to delivering equipment that empowers hunters in the pursuit of their passion.
Revolutionary Comfort:

 The molded memory foam suspension and adjustable waist belt offer unparalleled comfort and support.

Innovative Frame Design:

 The magnesium alloy frame stays to ensure exceptional strength while minimizing weight.

Versatile Weapon and Gear Transport:

 The detachable Rifle/Bow Boot, bino case compatibility, and built-in meat shelf enhance your hunting experience.

Waterproof and Resilient Material: 

Crafted from KXO-50 fabric with C6 DWR, this fabric offers exceptional defense against weather conditions while ensuring a noiseless and lightweight experience.
Advanced Features:

 While these features enhance the pack's functionality, some hunters seeking a more straightforward design might find it overwhelming.
Product Description
The Badlands 2200 Hunting Backpack with Built-in Meat Hauler results from relentless innovation. Crafted by Badlands, a name synonymous with cutting-edge hunting gear, this pack encompasses the spirit of excellence in design and performance.
Experience the epitome of comfort through the molded memory foam suspension, which adapts to your body over time. The reverse tightening waist belt offers ergonomic cinching, ensuring unparalleled carrying comfort.
This pack defies conventional frame materials, featuring an aircraft-grade magnesium alloy frame, offering superior strength and weight reduction. The detachable Rifle/Bow Boot and bino case compatibility cater to diverse hunting scenarios, exemplifying Badlands' commitment to versatile solutions.
Beyond its versatile transport capabilities, the 2200 embraces innovation with a built-in meat shelf, hip belt pistol holster, and the ability to accommodate Badlands' 2L hydration reservoir.
As the embodiment of comfort, durability, and adaptability, the Badlands 2200 Hunting Backpack stands ready to elevate your hunting journey. Every stitch and detail reflects Badlands' relentless pursuit of creating gear that goes beyond expectations, empowering you to immerse yourself in the thrill of the hunt.
In the realm of bow hunting, a reliable companion is paramount. The quest for the best backpack ends here, where form and function converge seamlessly. From adaptable storage to rugged durability, these top contenders prove their mettle. 
Elevate your hunts with the perfect blend of innovation and comfort, ready to carry your gear and dreams. Embrace the journey armed with the best bow hunting backpack. Your conquest awaits!