Best Rolling Backpack for School & College: Your Stylish and Practical Companion on Campus!
Students must find the ideal backpack that combines style, functionality, and comfort. A rolling bag is a versatile choice, effortlessly transitioning from school to college. Discover the top options that offer convenience and alleviate the burden of heavy loads.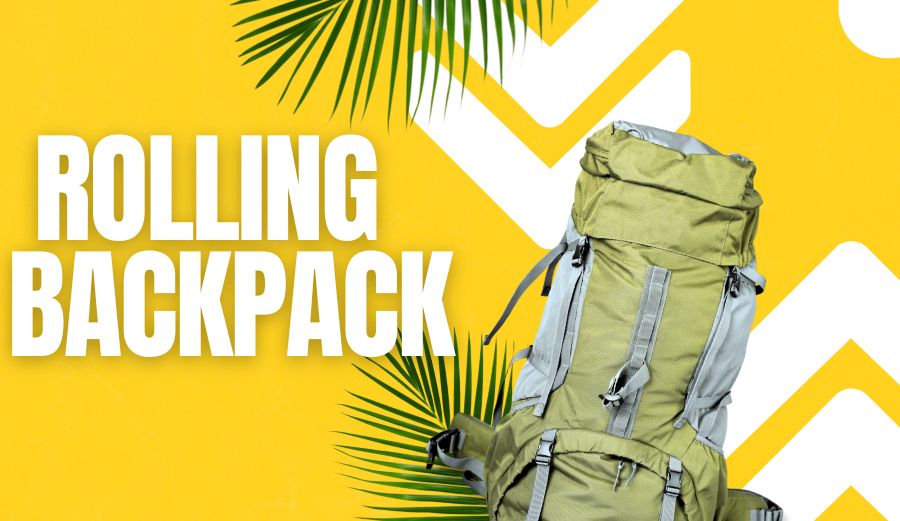 Tired of lugging around heavy bags? Say hello to convenience with the Best Rolling Backpack for School & College. Whether dashing to class or navigating crowded hallways, these backpacks blend fashion with functionality. Bid farewell to back strain as you effortlessly switch between rolling and carrying. With spacious compartments, secure pockets, and durable wheels, these backpacks accommodate textbooks, laptops, and more. 
Don't sacrifice style for comfort – express yourself with various designs that suit your personality. Stay organized, reduce stress, and make a statement as you breeze through your academic journey. 
Experience the ultimate blend of comfort and trendiness with the best rolling backpacks for school and college.
Discover relief and style with these 5 rolling backpacks for school and college, thoughtfully designed to alleviate back pain. Say goodbye to heavy loads and hello to comfort on campus!
The J World New York Sundance Rolling Backpack combines style and utility in a single package. Ideal for students and professionals alike, this backpack offers the convenience of a roller and the versatility of a bag.
Key Features: This backpack boasts an impressive capacity, easily accommodating laptops, textbooks, notebooks, and more. Its interior organization includes various compartments, pockets, key clips, and pen/card slots, ensuring everything stays in place. The adjustable shoulder straps and ergonomic back panel enhance comfort, while the padded laptop sleeve keeps devices secure.
User Experience: Users appreciate this backpack's balance between storage and mobility. The telescoping handle and noiseless wheels make navigation effortless, and the thoughtful organization keeps belongings accessible. The reflective tape for night visibility adds an extra layer of safety.
Spacious design for laptops, textbooks, and more.

Comfortable ergonomic features.

Multiple compartments and organizational pockets.

Padded laptop sleeve for device protection.

Durable construction with protective qualities.

Stylish design options.
Slightly heavier due to rolling components.

The limited color variety for some users.
Verdict: The J World New York Sundance Rolling Backpack stands out as a dependable companion for students and professionals on the move. Its combination of comfort, organization, and durability makes it a practical investment, despite its minor drawbacks. This rolling backpack is a solid choice if you're seeking a stylish and functional solution to carry your essentials.
The Targus 16 Inch Compact Rolling Backpack presents a versatile solution for those who demand functionality and convenience. This compact wonder safeguards your essentials by seamlessly transitioning between a backpack and a rolling laptop case. At the same time, you navigate work, travel, or campus life.
Key Features: This rolling backpack is more than meets the eye. Equipped with practical compartments, a telescoping handle, sturdy roller wheels, and premium construction, it embodies the best of both backpack and rolling case worlds. Its soft-lined laptop sleeve shields devices from scratches, while the spacious main compartment accommodates books, documents, and more. Additional pockets and mesh compartments ensure everything finds its place.
User Experience: Users praise the thoughtful design that caters to various needs. The foam-padded laptop compartment ensures top-tier protection against shocks and bumps, providing peace of mind during travels. Switching between rolling and carrying is applauded, offering flexibility in different situations.
A versatile design combining backpack and rolling case.

Foam-padded compartment for optimal laptop protection.

Multiple containers and pockets for organized storage.

Telescoping handle and quiet roller wheels for easy mobility.

Convertible shoulder straps for alternative carrying.

Lightweight and durable construction.
Limited color options.

It may be slightly bulky when fully loaded.
Verdict: The Targus 16 Inch Compact Rolling Backpack addresses the requirements of contemporary, active individuals who prioritize ease and safeguarding. Its ingenious design, laptop cushioning, and adaptable carrying options make it a commendable choice for professionals, travelers, and students alike. With its functional compartments and secure laptop storage, this rolling backpack keeps your essentials in check while you navigate your busy life.
The Rockland Double Handle Rolling Backpack in the captivating Tribal design offers a blend of utility and fashion for kids and adults. This backpack is more than just a bag; it's a versatile travel companion with various features that cater to multiple needs.
Features and Design: This rolling backpack measures 12″x8″x20″ (with wheels), providing ample storage space for your belongings. The double wheels ensure smooth mobility, while the front pocket with an organizer keeps essentials easily accessible. Side mesh pockets add convenience for water bottles or quick-access items.
Telescoping Handle: The telescoping pull handle offers easy maneuvering, tucking away neatly when unused. This feature enhances the backpack's portability and convenience.
Sturdy Inline Wheels: Equipped with sturdy inline wheels, this backpack ensures effortless transportation of your belongings, whether traveling, commuting, or going to school.
Durable Construction: Crafted from durable polyester, the Rockland Rolling Backpack is built to withstand the demands of travel and everyday use. The heavy-duty plastic stand on the bottom keeps the bag standing upright.
For All Ages: With its versatile design and practical features, this backpack is suitable for ages 5 and up, making it a reliable choice for kids, teens, and adults alike.
Spacious storage capacity.

Convenient front organizer and side mesh pockets.

Telescoping handle for easy maneuvering.

Sturdy inline wheels for smooth transportation.

Eye-catching Tribal design adds a stylish element.
Limited information on laptop compatibility.
Verdict: The Rockland Double Handle Rolling Backpack stands out as a multifunctional companion for travelers of all ages. Its practicality, style, and durability blend ensures a hassle-free journey whether you're going on an adventure or heading to work or school. The Tribal design adds a touch of flair, making it a fashionable choice for those who appreciate both form and function.
The High Sierra XBT Business Rolling Backpack is a testament to the fusion of function, comfort, and style. Crafted with precision and designed to cater to adventure seekers and business professionals, this backpack offers various features that elevate your travel and work experiences.
Key Features:
Fully Padded Compartments: The backpack includes a fully padded computer sleeve that accommodates most 17″ laptops and an integrated Tech Spot tablet computer sleeve.

Smooth Rolling Wheels: The corner-mounted wheels ensure seamless mobility, complemented by a hideaway telescoping pull handle for easy navigation.

Organized Storage: A multi-pocket organizer compartment with a key fob keeps your essentials in order. Additional accessory pockets and loops provide convenience for items of all sizes.

Comfortable Carry: Padded shoulder straps can be tucked behind the zippered back panel when not in use. The soft-grip padded grab handle offers comfortable lifting support.

Durable Build: The bag's corner guards and kick plate protect it from abrasion, while high-quality materials like 1680D ballistic nylon and 900D Duralite ensure longevity.
Functionality and Style: High Sierra XBT goes beyond a mere bag; it embodies a spirit of adventure. Whether you're navigating challenging trails or corporate settings, this backpack seamlessly adapts to your needs. Its blend of outdoor ruggedness and business savvy makes it a versatile choice.
Ample padded compartments for laptops and tablets.

Smooth-rolling wheels for easy mobility.

Multi-pocket organizer for efficient storage.

Comfortable carry options.

Corner guards and kick plate for durability.

Suitable for both adventure and business scenarios.
Slightly heavier due to its feature-rich design
Verdict: The High Sierra XBT Business Rolling Backpack emerges as a commendable travel and business companion. Its fusion of practicality, comfort, and style makes it an ideal choice for those seeking a versatile bag that adapts to various situations. Whether exploring the great outdoors or conquering corporate challenges, this backpack has you covered with its thoughtful features and durable construction.
The JanSport Driver 8 Rolling Backpack effortlessly blends style and functionality, making it the ideal choice for individuals seeking convenience and organization on the move. From its padded laptop sleeve to its versatile design, this backpack is designed to accompany you on everyday adventures.
Key Features:
Padded Laptop Sleeve:

Safeguard your 15-inch laptop with a dedicated padded sleeve, ensuring its security and protection.

Convenient Mobility:

With 2 smooth wheels, a telescopic handle, and tuck-away shoulder straps, this rolling backpack effortlessly transitions from a bag to a roller, adapting to your needs.

Stylish Appeal:

Express your personal style wherever you go with this rolling backpack's sleek and elegant design, available in multiple stunning patterns.

Durability and Reliability:

Crafted from high-quality materials, this backpack is built to last and withstand the demands of your daily adventures.

Organized Storage:

Enjoy the functionality of 2 large main compartments, a side bottle pocket, and a front organizer pocket that ensures your essentials stay organized and accessible.
User Experience: Users commend the JanSport Driver 8 Rolling Backpack for its versatility, convenience, and organizational features. The option to switch between rolling and carrying modes is particularly appreciated, while the ample storage compartments accommodate various belongings.
Padded laptop sleeve for secure laptop storage.

Versatile design with rolling wheels and tuck-away straps.

Stylish patterns for personal expression.

High-quality construction for durability.

A functional organization with multiple compartments.
Limited information on additional pockets and internal features.
Verdict: The JanSport Driver 8 Rolling Backpack presents a blend of style, versatility, and practicality that caters to the needs of modern-day adventurers. Its ability to seamlessly transition between carrying modes and laptop protection, and organized storage makes it an excellent companion for daily journeys. Whether heading to work, school, or a casual outing, this rolling backpack ensures you're always prepared and stylishly equipped.
A Comprehensive Guide: What to Look for in a Rolling Backpack
Rolling backpacks are versatile companions that merge the convenience of wheels with the functionality of a backpack. Whether you're a student, professional, or traveler, finding the right rolling backpack requires careful consideration of various factors. Presented below is an all-encompassing guide designed to assist you in arriving at an educated choice:
Size and Capacity: Choose a rolling backpack that suits your needs. Consider the size of your laptop, textbooks, and other essentials you typically carry. Look for compartments and pockets that offer efficient organization while ensuring the bag isn't too bulky.
Laptop Compartment: If you are carrying a laptop, prioritize a rolling backpack with a well-padded laptop compartment. Ensure it fits your laptop's dimensions and protects against shocks and bumps adequately.
Wheels and Handle: Opt for smooth-rolling, durable wheels that can handle various terrains. The telescoping handle should be sturdy and retractable, allowing you to adjust it to a comfortable height for easy maneuvering.
Straps: Check if the rolling backpack has padded, adjustable shoulder straps that can be hidden or tucked away when using the wheels. This feature provides flexibility when you need to switch between rolling and carrying.
Build and Durability: Look for a rolling backpack from sturdy materials like ballistic nylon or polyester. Reinforced corners, quality zippers, and strong stitching enhance the bag's longevity, especially if you'll use it for travel or heavy-duty purposes.
Organizational Features: Consider the internal and external organization options. Multiple compartments, pockets, dividers, and slots for pens and miniature items are essential to keep your belongings organized and easily accessible.
Comfort: Comfort is critical, especially if you'll be carrying the backpack for extended periods. Look for padded back panels, ergonomic shoulder straps, and cushioned handles. Adequate padding prevents discomfort and strain on your back and shoulders.
Design and Style: Choose a rolling backpack that reflects your style. Many brands offer a variety of designs, colors, and patterns to match your preferences while ensuring functionality.
Weight: Consider the importance of the rolling backpack itself. While additional features can add convenience, they also increase the bag's weight. Find a balance between features and portability.
Versatility: Evaluate whether the rolling backpack can be used in different scenarios. Versatile models can seamlessly transition from school to work to travel, offering the flexibility you need in a single bag.
Price: Establish a budget and explore choices within that financial scope. While investing in a higher-quality rolling backpack often pays off in terms of durability and features, budget-friendly options offer good value.
Customer Reviews: Reading customer reviews provides valuable insights into the real-world performance of a rolling backpack. Look for feedback on comfort, durability, and any potential issues that might take time to be apparent.
In conclusion, choosing the perfect rolling backpack requires carefully evaluating your needs and preferences. You can find a rolling bag that becomes a reliable and convenient companion for your daily adventures by considering size, features, durability, comfort, and style.
In the ultimate analysis, the J World New York Sundance Rolling Backpack emerges as the clear winner when convenience dances harmoniously with style. Its seamless fusion of practicality and flair ensures that every journey is met with preparedness and elegance. From the robust build to the intelligent organizational features, this backpack embodies versatility. 
Whether conquering the urban jungle or embarking on adventures, it is a faithful companion. Don't just carry; elevate your experience with the J World New York Sundance Rolling Backpack. Your daily endeavors deserve nothing less than the perfect blend of functionality and aesthetics, and this backpack delivers precisely that. Upgrade your journey today.