Timbuk2 Spire Review: Exploring Innovation and Utility
Explore the Timbuk2 Spire Laptop Backpack 2.0 – a weather-resistant wonder with cyclist perks. Discover its pros, cons, and standout features in our comprehensive review.
Positive Sides:
Impressive weather resistance for light rain protection.

Dual access laptop sleeve adds convenience.

Front webbing tailored for bike U-Lock storage.

The spacious main compartment accommodates essentials.
Things to Consider:
The top pocket may encroach on the main compartment space.

Rolltop design can hinder interior visibility.

Internal organization options are limited.
Welcome to our comprehensive Timbuk2 Spire Review, where we delve deep into the features, performance, and style of the Timbuk2 Spire Laptop Backpack 2.0. Whether you're a dedicated cyclist or a tech-savvy urban nomad, this review will unveil the truth about this weather-resistant wonder.
Join us as we dissect the pros, cons, and standout elements of the Timbuk2 Spire, guiding you toward an informed decision for your next adventure.
| Technical Details | Specifications |
| --- | --- |
| Carry-on Compliance | 85% (View 123/145 Airlines) |
| Capacity | 26L |
| Weight | 2 lb (0.9 kg) |
| Dimensions | 19.7 in x 12.2 in x 5.91 in (50 x 31 x 15 cm) |
| Notable Materials | Polyurethane, Polyethylene |
| Manufacturing Country | Indonesia |
| Laptop Compartment Size | 17″ |
| Warranty Information | Lifetime Warranty Repair |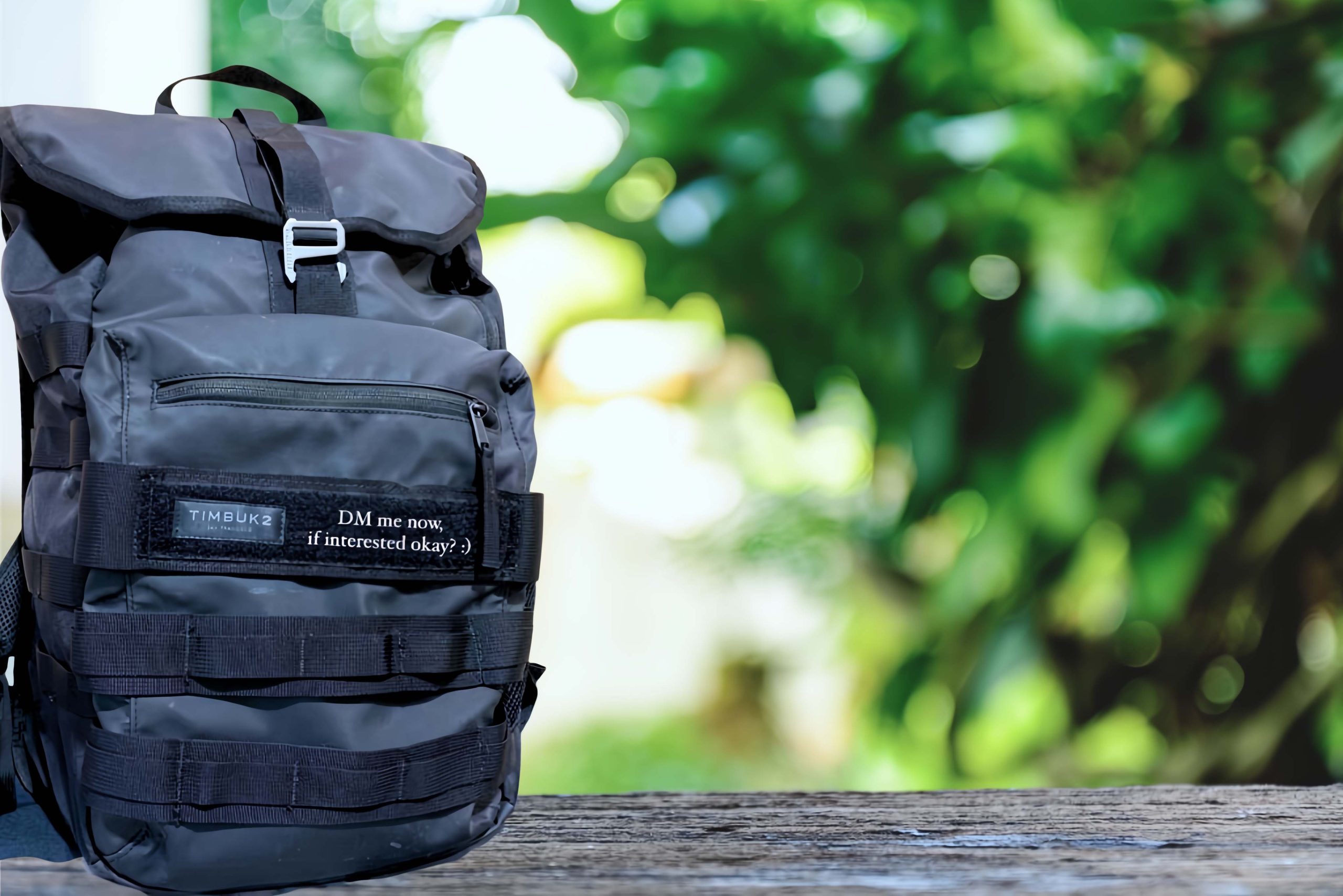 Having the right backpack can make all the difference when it comes to urban exploration, daily commuting, or embracing the cyclist's lifestyle. The Timbuk2 Spire Laptop Backpack 2.0 steps onto the scene, offering a fusion of style and functionality that caters to tech-savvy urbanites and dedicated cyclists.
In this in-depth review, we'll dissect the key features, delve into the pros and cons, and explore the nuances that define the Timbuk2 Spire.
A Design for the Modern Explorer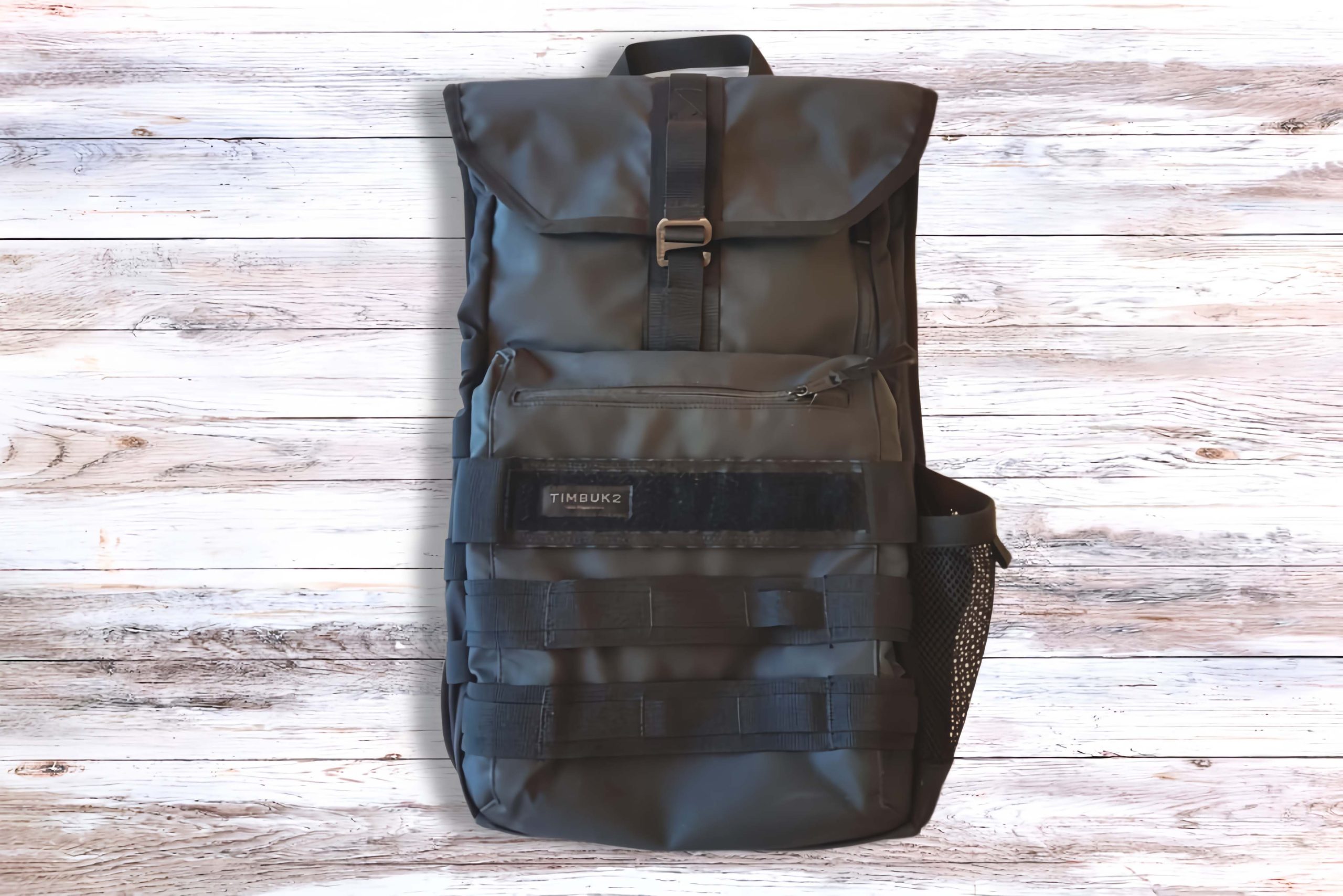 The Timbuk2 Spire Laptop Backpack 2.0 is a testament to the brand's commitment to innovation and usability. Crafted with urban exploration in mind, it seamlessly combines weather resistance and convenience. The backpack's form factor, dimensions measuring 19.7 inches x 12.2 inches x 5.91 inches (50 x 31 x 15 cm), grants ample room without overwhelming the wearer.
The Timbuk2 Spire Laptop Backpack 2.0's functionality shines, catering to many users. For cyclists, the strategically positioned daisy chains on the front of the backpack provide a designated spot for U-Lock storage. This feature sets it apart as a cyclist's dream, ensuring that your cycling gear seamlessly integrates into your daily routine.
Aesthetics and Material Mastery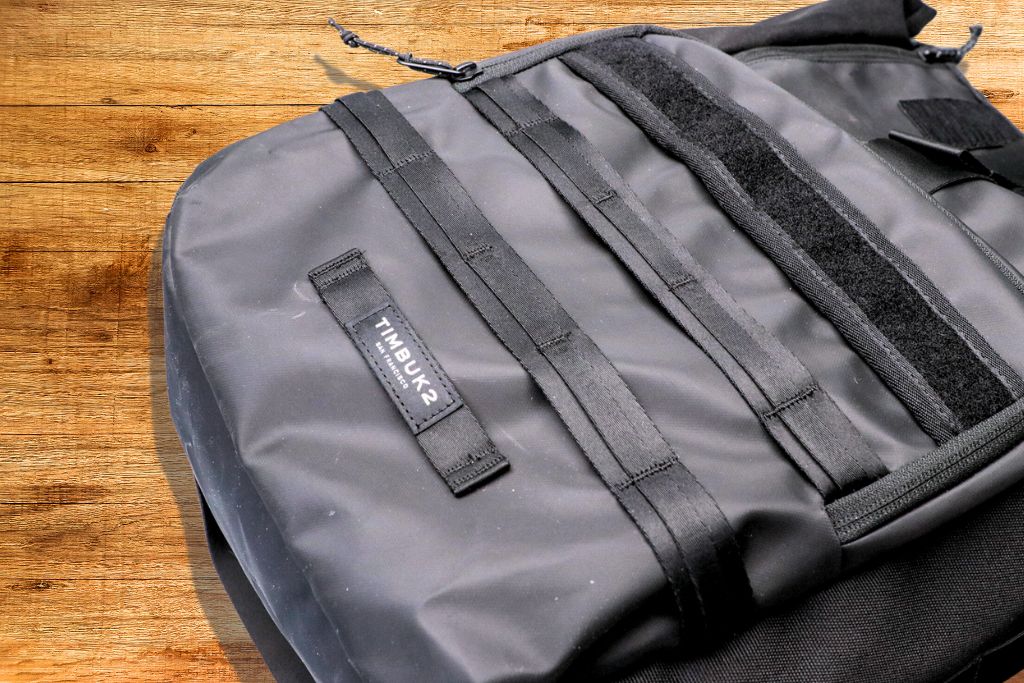 Available in a sleek black-on-black design, the Spire backpack exudes a modern yet timeless aesthetic. The polyurethane and polyethylene material blend not only provides a contemporary feel but also ensures remarkable weather resistance. Say goodbye to the worries of unexpected rain showers or splashes.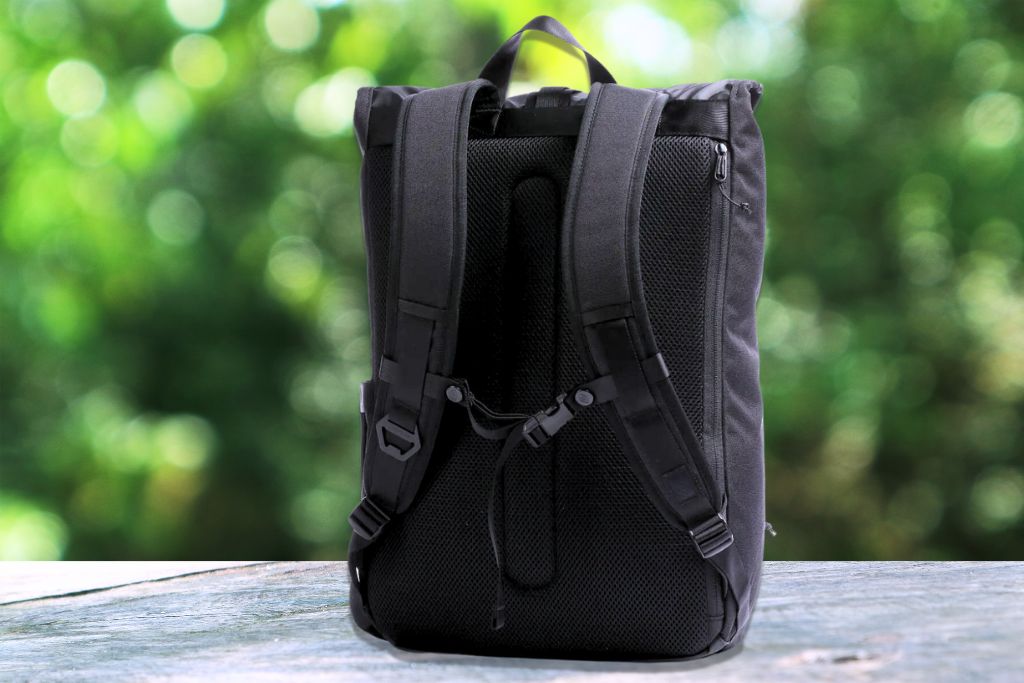 One standout aspect is the well-designed front pocket. Zippered pockets and pen sleeves offer primary organization for your tech accessories and small essentials. This integrated tech pouch eliminates needing an additional accessory organizer, streamlining your daily carry.
The Verdict: Balancing Form and Function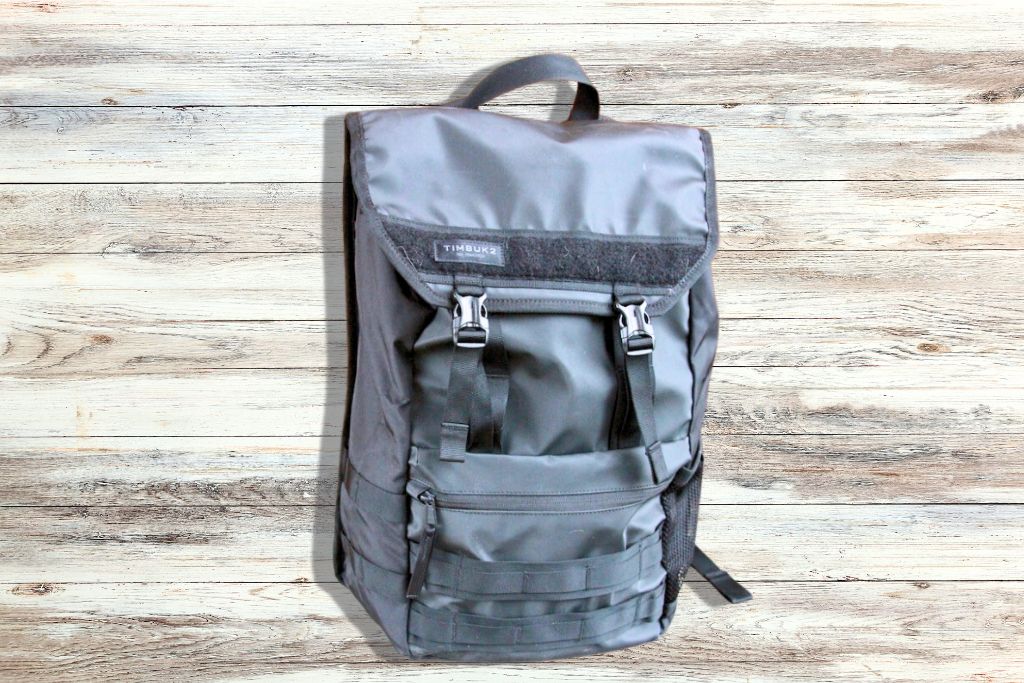 In conclusion, the Timbuk2 Spire Laptop Backpack 2.0 effectively marries form and function to create a versatile companion for urban exploration and daily commuting.
Its weather resistance, thoughtful features like dual access to the laptop sleeve, and the front webbing for U-Lock storage cater to cyclists and tech-savvy urbanites.
While the rolltop design and minimal internal organization present a few challenges, the overall package delivers on its promise of style and usability.
If you're seeking a backpack that seamlessly bridges the gap between fashion and functionality, the Timbuk2 Spire could be your next go-to companion
Impressive Weather Resistance: The Spire backpack's polyurethane and polyethylene materials boast excellent weather resistance, protecting your belongings from light rain showers.
Dual Access Laptop Sleeve: The dual access laptop sleeve is an ingenious feature. With two points of entry, you can effortlessly retrieve your laptop from the top or side, ensuring convenience during busy commutes.
Front Webbing for U-Lock Storage: Cyclists will appreciate the specialized front webbing tailored to secure a U-Lock. This thoughtful design element adds to the pack's functionality for bike commuters.
Spacious Main Compartment: The main compartment offers abundant space for your essentials. Whether it's work documents, gym gear, or a change of clothes, this backpack covers you.
Top Pocket Limitation: While valid for flat items, the full pocket's design can encroach on the main compartment's space when filled with bulkier accessories.
Rolltop Challenges Visibility: While contributing to the backpack's distinctive style, the rolltop design can occasionally hinder quick visibility into the main compartment.
Sparse Internal Organization: If you appreciate intricate organization options, the Timbuk2 Spire may need more internal organization.
Condition: Excellent
The backpack features two rows of daisy chains at the front, providing a spot for bike U-Lock storage.

The front compartment includes pockets for easy organization of smaller items.

A dedicated side-loading laptop compartment proves convenient.
Condition: Excellent
The webbing on the front proves helpful in securing a U-Lock during bike commutes.

Though handy for flat items, the top pocket can sometimes encroach on the main compartment space, mainly when filled with bulkier accessories.

The rolltop design poses challenges to the visibility into the main compartment.
Condition: Well-maintained
The weather resistance continues to impress, with the backpack providing adequate protection against light rain and occasional spills.

The laptop sleeve's dual access feature remains a standout, ensuring easy access from both the top and side.

The internal organization limitations are more noticeable over time, especially for users who prefer a higher degree of organization.
Beyond the Spire: Unveiling Backpack Marvels on Amazon
When it comes to choosing the perfect backpack, Amazon offers a plethora of alternatives to the Timbuk2 Spire Laptop Backpack 2.0. Here are a few standout options worth considering:
North Face Recon Backpack
The North Face Recon Backpack is versatile for urban commutes and outdoor adventures. Its rugged build and various compartments offer excellent organization for tech gear, books, and more. Its ergonomic design ensures comfort during extended wear.
Herschel Little America Backpack
The Herschel Little America Backpack is a classic option for those who value timeless style. It's signature mountaineering-inspired design pairs well with its functional features, including a padded laptop sleeve and drawcord closure. It's an ideal blend of fashion and practicality.
Osprey Daylite Plus Daypack
Designed for day-to-day use and short trips, the Osprey Daylite Plus Daypack excels in simplicity and functionality. Lightweight yet durable, it offers a spacious main compartment, a hydration sleeve, and various pockets for organization. Its compact size makes it an excellent choice for those on the move.
JanSport Right Pack Backpack
A trusted name in backpacks, the JanSport Right Pack Backpack boasts a straightforward design focusing on durability. Its suede bottom and premium Cordura fabric ensure long-lasting use. Its spacious main compartment and front utility pocket make it a reliable companion for various activities.
SwissGear Travel Gear 1900 Scansmart TSA Laptop Backpack
The SwissGear Travel Gear 1900 Scansmart TSA Laptop Backpack stands out for travelers seeking an efficient carry-on option. Its TSA-friendly design lets you keep your laptop in the bag while passing through security. It also offers multiple compartments and a dedicated tablet pocket.
Patagonia Arbor Grande Backpack
For environmentally-conscious consumers, the Patagonia Arbor Grande Backpack combines sustainability with functionality. It is made from recycled materials and features a roomy main compartment and a padded laptop sleeve. Its eco-friendly approach appeals to those who prioritize responsible choices.
Under Armour Hustle 4.0 Backpack
The Under Armour Hustle 4.0 Backpack is designed with active lifestyles in mind. It offers water-resistant material, a laptop sleeve, and an abrasion-resistant bottom panel. Whether hitting the gym or heading to work, this backpack is built to withstand daily challenges.
As you explore these alternative options on Amazon, consider your needs, preferences, and activities. Each backpack brings unique strengths, allowing you to find the ideal companion for your daily adventures.